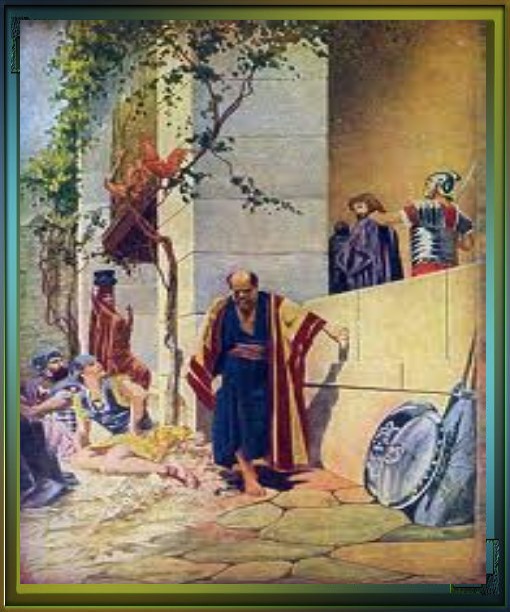 The Cross
In the providence of God, Peter was permitted to close his ministry in Rome, where his imprisonment was ordered by the emperor Nero about the time of Paul's final arrest. Thus the two veteran apostles, who for many years had been widely separated in their labors, were to bear their last witness for Christ in the world's metropolis, and upon its soil to shed their blood as the seed of a vast harvest of saints and martyrs.
Since his reinstatement after his denial of Christ, Peter had unflinchingly braved danger and had shown a noble courage in preaching a crucified, risen, and ascended Saviour. As he lay in his cell he called to mind the words that Christ had spoken to him: "Verily, verily, I say unto thee, When thou wast young, thou girdedst thyself, and walkedst whither thou wouldest: but when thou shalt be old, thou shalt stretch forth thy hands, and another shall gird thee, and carry thee whither thou wouldest not." John 21:18. Thus Jesus had made known to the disciple the very manner of his death, and even foretold the stretching of his hands upon the cross.
Peter, as a Jew and a foreigner, was condemned to be scourged and crucified. In prospect of this fearful death, the apostle remembered his great sin in denying Jesus in the hour of His trial. Once so unready to acknowledge the cross, he now counted it a joy to yield up his life for the gospel, feeling only that, for him who had denied his Lord, to die in the same manner as his Master died was too great an honor. Peter had sincerely repented of that sin and had been forgiven by Christ, as is shown by the high commission given him to feed the sheep and lambs of the flock. But he could never forgive himself. Not even the thought of the agonies of the last terrible scene could lessen the bitterness of his sorrow and repentance. As a last favor he entreated his executioners that he might be nailed to the cross with his head downward. The request was granted, and in this manner died the great apostle Peter.
AA 537