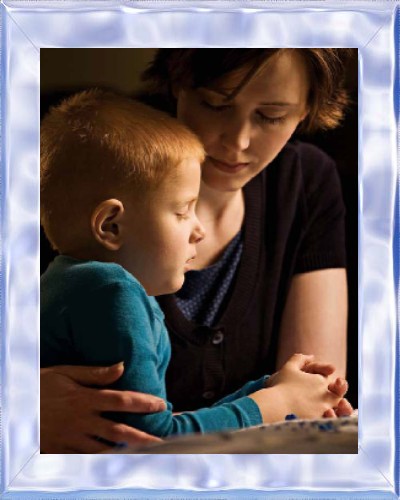 Help From The Saviour
No work can equal that of the Christian mother. She takes up her work with a sense of what it is to bring up her children in the nurture and admonition of the Lord. How often will she feel her burden's weight heavier than she can bear; and then how precious the privilege of taking it all to her sympathizing Saviour in prayer! She may lay her burden at His feet and find in His presence a strength that will sustain her and give her cheerfulness, hope, courage, and wisdom in the most trying hours. How sweet to the careworn mother is the consciousness of such a friend in all her difficulties! If mothers would go to Christ more frequently and trust Him more fully, their burdens would be easier, and they would find rest to their souls.
The God of Heaven Hears Your Prayers.
--You cannot bring up your children as you should without divine help; for the fallen nature of Adam always strives for the mastery. The heart must be prepared for the principles of truth, that they may root in the soul and find nourishment in the life.
Parents may understand that as they follow God's directions in the training of their children, they will receive help from on high. They receive much benefit; for as they teach, they learn. Their children will achieve victories through the knowledge that they have acquired in keeping the way of the Lord. They are enabled to overcome natural and hereditary tendencies to evil.
Parents, are you working with unflagging energy in behalf of your children? The God of heaven marks your solicitude, your earnest work, your constant watchfulness. He hears your prayers. With patience and tenderness train your children for the Lord. All heaven is interested in your work. . . . God will unite with you, crowning your efforts with success.
As you try to make plain the truths of salvation, and point the children to Christ as a personal Saviour, angels will be by your side. The Lord will give to fathers and mothers grace to interest their little ones in the precious story of the Babe of Bethlehem, who is indeed the hope of the world.
Ask and Receive.
--In their important work parents must ask and receive divine aid. Even if the character, habits, and practices of parents have been cast in an inferior mold, if the lessons given them in childhood and youth have led to an unhappy development of character, they need not despair. The converting power of God can transform inherited and cultivated tendencies; for the religion of Jesus is uplifting. "Born again" means a transformation, a new birth in Christ Jesus. AH 204-206