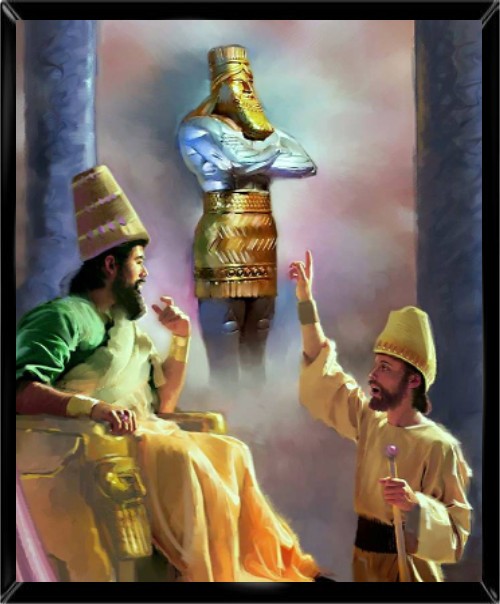 Before The King
Daniel sought the Lord when the decree went forth to slay all the wise men of the kingdom of Babylon because they could not relate or interpret a dream that had gone from the king's mind. He demanded not only the interpretation of the dream, but the relation of the dream itself. . . .
The magicians were full of fear and trembling. They declared that the request of the king was something unreasonable, and a test beyond that which had ever been required of anyone. The king became furious and acted like all persons who have great power and uncontrollable passions. He decided that every one of them should be put to death, and as Daniel and his fellows were numbered with the wise men, they also were to share their fate. . . .
Daniel came before the king and pleaded for time to bring this matter before the supreme court of the universe, from whose decision there could be no appeal. When his request was granted, Daniel laid the whole matter before his companions who were united with him in worshiping the true God. The matter was carefully considered, and on their bended knees, they pleaded that God would give them the power and wisdom that alone would avail them in their great necessity. . . . With contrition of heart they submitted their case to the great Judge of the earth. It was all that they could do.
Daniel prayed, "I thank thee, and praise thee, O thou God of my fathers, who hast given me wisdom and might, and hast made known unto me now what we desired of thee: for thou hast now made known unto us the king's matter."
Daniel was imbued with the Spirit of Jesus Christ, and he pleaded that the wise men of Babylon should not be destroyed. The followers of Christ do not possess the attributes of Satan, which make it a pleasure to grieve and afflict the creatures of God. They have the spirit of their Master, who said, I am "come to seek and to save that which was lost.".
"Then Arioch brought in Daniel before the king in haste, and said thus unto him, I have found a man of the captives of Judah, that will make known unto the king the interpretation." . . . Then in all humility of mind he [Daniel] acknowledges that the wisdom is not in him, but in the God of heaven, and that the vision has been revealed to him for the sake of God's servants, and that the king might know the thought of his heart. 1894 CTr 176